Do you know how many new sales are required to offset a loss? Whether that's surgeries, subscriptions or sofas you need to sell, it can be eye-opening when you figure out just how much you'll have to do in order to recoup your losses.
Happy April, everyone, and for most of the country happy Spring as well (we in the Northeast are instead making the most of a perpetual winter). It turns out that the US celebrates Financial Literacy Month every April and, with this in mind, we're going to take a look at what it takes to offset your organization's losses. After all, every successful organization is inevitably going to have customers or patients that miss payments, have trouble consistently paying or simply abandon their bill altogether.
Trying to collect on these debts is necessary but doing so strictly from within your organization is both a time-consuming and dangerous undertaking for your organization and it's important to understand what it takes to offset that loss if you can't collect on it.
Do you know how many new sales are required to offset a loss? Whether that's surgeries, subscriptions or sofas you need to sell, it can be eye-opening when you figure out just how much you'll have to do. The first thing we'll need to start with is your organization's operating margin. What net profit does your organization generate? Then we look at how much loss or delinquency the organization is carrying on its books.
The latest statistics show that on average hospitals operate at nearly a 4% profit margin. * Using the graph provided below you can see every loss (even beyond what's listed) is magnified by a factor of twenty-five! Very simply put, it costs your organization $25 in new sales to cover the non-payment of every single dollar – and that's just what's needed to break even! Operating at the high end, with a 20% profit margin, every loss is still magnified by a factor of five. Five dollars in new sales. For… Every. Single. Dollar. Lost.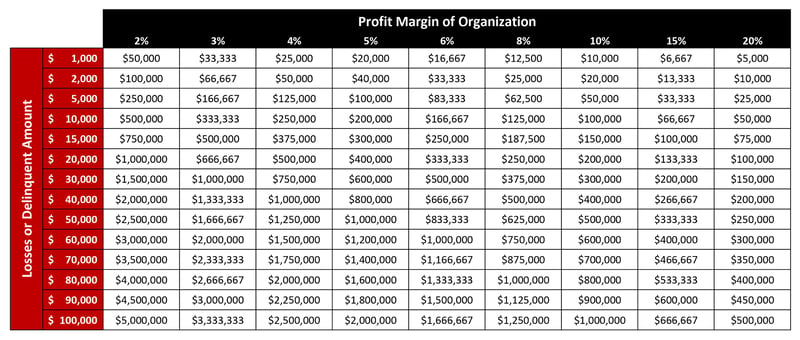 (Click image for larger view)
Every organization should examine their books and see just how much more products and services they'll need to sell to recoup their losses if only to gain perspective on what its losses really amount to. Unfortunately, it won't end there. We'll all be taking more losses in the coming year according to the National Foundation for Credit Counseling. The NFCC's 2018 Consumer Financial Literacy Survey shows that 25% of American consumers do not pay their bills on time and 8% have debts in collections – that's nearly 20 million Americans with a least one account in collections! ** Both numbers have increased from last year which indicates that more collection accounts are on the horizon for any organization that extends credit to their patients and customers. So, it's not exactly affordable to just let these debts go unpaid.
However, when you begin to consider what tasks your staff spends their time on, debt collection is probably not the first thing that comes to mind, nor is it likely that it's a skill set with which your workforce has a great deal of experience, not to mention, the availability of tools at their disposal that help them find people or report these balances to the credit bureaus.
For most organizations, letting specialized collections professionals perform this work for you is the preferred answered. But, whether you attempt to collect those debts from within the organization, use a professional agency from outside your organization, or a combination of the two, taking a swing at this can at the very least bite into the debt obligations you are already carrying on your books – not to mention help dissuade repeat offenders. It might not be worth your own time to collect these debts, but it sure is worth your money not to let them go entirely.
---
* This statistic is an average of three operating margins as reported by these three publications:
Standard & Poor's Global 2017 medians are based on 2016 audited financial statements for stand-alone hospitals and health care systems.

Optum data from the 2018 Almanac of Hospital Financial and Operating Indicators.

Premier, Inc. annual numbers from quarter two, 2017 data.
A very special thank you to Alison and Janice at HFMA for providing this information. Please visit www.hfma.org for information about this great healthcare organization.
** Calculation based on U.S. Census Bureau's 2016 Current Population Survey (CPS), which estimates there are 244.81 million adults ages 18+ residing in the United States: 244.81M x 0.08 = 19.58M.
---
For more helpful topics, sign up for our free monthly e-newsletter,"Billing & Collections Adviser" by clicking this link (or filling out the form on this page):
---