Let Us Give you a Hand by Performing the A/R Collections Work In An Accelerated Process Prior to Going to Full Collection Rates
Introduction
Simon's Agency, Inc. is offering an accelerated collections service for those organizations that can turnover their defaulted accounts more quickly than traditional collection placements . For many organizations, this early placement window will allow them to move accounts along faster. While still considered collection accounts and regulated by the FDCPA, collection attempts on these patients and consumers take a softer tone allowing us to collect on the low-hanging fruit at a reduced rate.
This program is essentially a happy medium between true early-out/self-pay programs and full blown collections and will allow organizations to work their debt in the early stages and then place the debt within an earlier window with Simon's. The intended result is to help supplement your own billing programs with Simon's specialized collection techniques without having to pay the higher contingencies associated with much older debt.
As noted in our article, "Accelerating Your Collections," the law of diminishing returns shows that that the longer an accounts sits, the less chance there is to collect it. This is a commonsense conclusion backed up by research performed by InsideARM, a leading accounts receivable management group. You can see this illustrated in their graph below. Your best chance of collecting any debt is in the first thirty days. By day-60, you'll see your chances of collecting nearly cut in half, followed by a precipitous drop through days 90-120. At this point, you're kicking rocks, and it's much better to place these with an agency that specializes in collecting bad debt.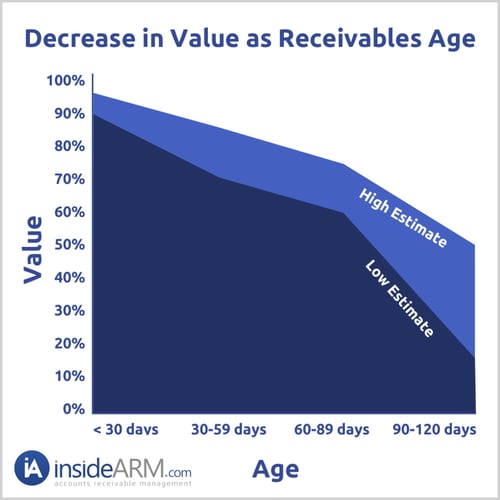 How the Program Works
Accounts are placed as soon as they default and fall under a certain age which may vary by industry, debt type, and placement volume.
Each account is sent a letter within 48-72 hours of placement.
Accounts are called once per week, after the obligatory period in which accounts can be disputed.
Accounts collected within 60-days of placement (or those with ongoing payment plans) will stay in the program until completion while any accounts that exceed 60-days with no result will automatically move over to Simon's full collections services and negotiated rate.
Clients will have full visibility of account status and contingency rate.
Questions Answered
Are accelerator accounts considered collections accounts?
Yes, the accounts have defaulted (per your organization's policies) and our representatives are required to provide the highest level of customer service while complying with all federal, state and local regulations for collections (such as FDCPA, TCPA, and FCRA) as well as industry best practices.
How will I know when accounts "move" to full collections?
This is a seamless process that is visible with the Client Access Web online reporting tool.
For more information about Simon's Accelerator Program, please used the form on this page to request a representative to contact you or reach out to your current sales executive.