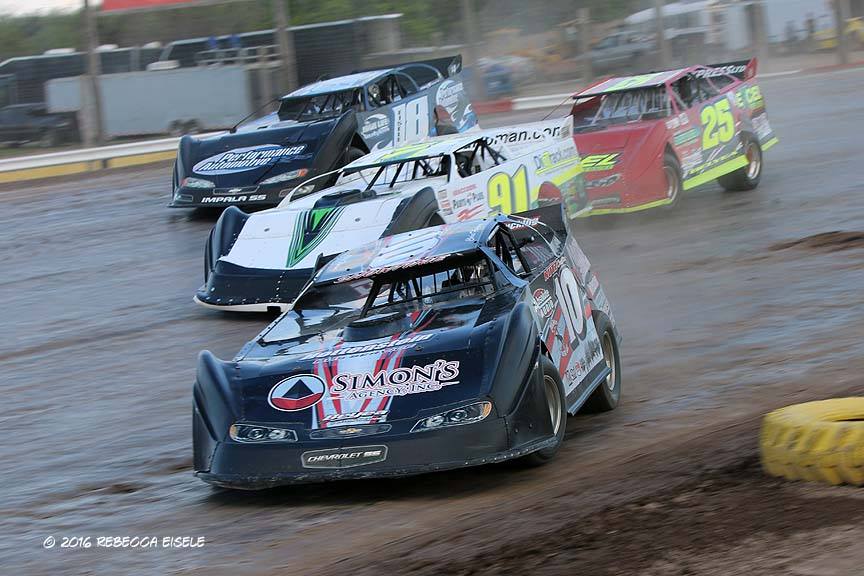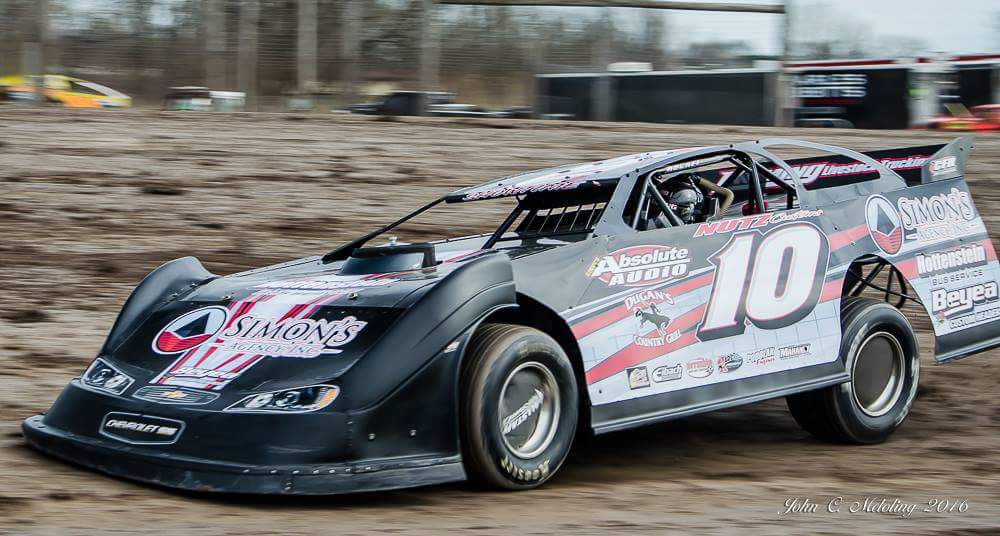 For several years Simon's Agency, Inc. has sponsored Christopher Fleming and the Chris Fleming Racing (CFR), and for the 2016 season became the lead sponsor of Chris's car. It was a chance meeting that brought Simon's and Chris together. Phil Bova, CEO of Simon's, was introduced to Chris by his friend, Carmen, at Tile & Carpet Town. Phil "thought right away that he was a good kid and a talented driver" based on his first impression and the research he conducted on Chris and his team.
Ironically, Simon's had been looking for ways to engage the local community and help people who were trying to excel in their dreams – be it sports or arts or education – and Chris fit the bill!
Simon's makes every effort to support local youth organizations and schools and now, with Chris, it gave Simon's the opportunity to make a measurable difference for one local athlete who has shown great community awareness, promise and resolve. Chris was certainly worthy of a sponsorship by Simon's Agency, Inc.!
Simon's catches up with Chris on what fuels him, race-day preparation, nicknames, what Simon's sponsorship means to him and much more:
---
Simon's Agency (SA): What do you listen to before a race?
Christopher Fleming (CF): If I had to listen to something before the races, it would be something to get me amped up. I listen to all kinds of genres of music each week, but on race day I'd lean to something more in the rock area. Cadillac Three and Shinedown are my two favorites to listen to!
---
SA: What's in your iPod right now?
CF: Cadillac Three, Shinedown, Incubus, Eminem, Sam Hunt
---
SA: What do you eat before a race?
Typically I will eat breakfast and then nothing till after the races. This is not normal for me not to eat, I'm someone who loves to eat every two hours. However, on race day this is not the case. Call it butterflies or nerves. There is some reason I just have no appetite on race day. I just make sure to drink plenty of water!
---
SA: What motivates you to do this?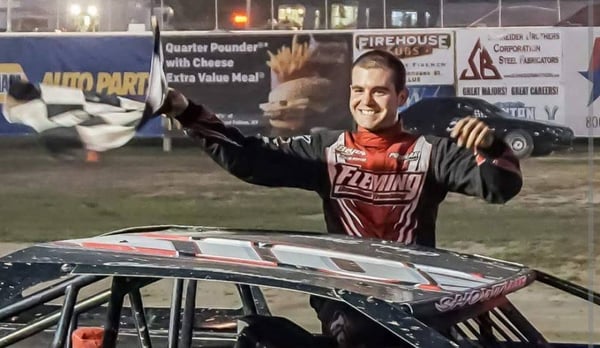 CF: I have invested so much time and finances that I feel I must perform. I've won races in everything I have raced, so I hold myself to such a high standard. The bottom line is… Pride. I have given up on some things and miss out on other things, to just focus on racing.
---
SA: Do you have a hero or a source of inspiration?
When I was younger and I went to Dirt races, I picked out some favorite drivers. I typically would go with the guys that had the nicest looking cars, ran up front and had nicknames! (I make sure that today I have all 3 covered for myself). Those guys I followed were: "Barefoot" Bob McCreadie on the dirt tracks and Russell "Rusty" Wallace in NASCAR.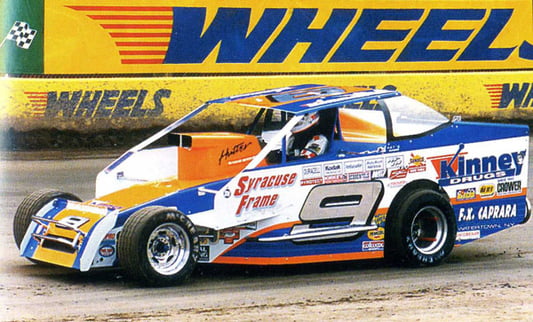 "Barefoot" Bob McCreadie at the 25th Super DIRT Week at the Syracuse Fairgrounds in 1996. From DIRT Trackin' Magazine, DIRT Motorsports Photo
---
SA: Well, you're running up front and, of course, you have a great looking car, so what's your nickname?
My nickname is "Showtime!" I tend to make late race moves and go forward at the end of races. I have also won a fair share of races on the final lap with some crazy passes.

---
SA: What got you started in racing? How old were you?
In racing terms I was a late bloomer when I got into the racing gig (16 years old). I got into racing through my father; everything I ever got into was because of my dad. He was into racing but nowhere to the extent that I'm into it today. My dad was someone that when he had the time, money and the itch to go to the track, he would go. By comparison my father back in the day would typically hit 15 races in a season, where I typically will race a minimum of 50 races per season.
---
SA: Looking back to when you started, where did you see this journey originally taking you?
CF: When I first started racing I always had the idea of getting into NASCAR. The problem with that idea is that it is so rare and difficult to get to that level today. So with taking in everything, the fact that we are on a regional touring series and compete for championships, I'm very satisfied with where I am today. Now if I ever had the opportunity to go bigger, I would jump on it in a heartbeat!
---
SA: What advice would you give to another person who's just getting started?
CF: Make sure you understand how difficult it is to be competitive. Understand that when you go to the track that there is so much time involved and finances that are spent. It usually takes more than just one person to have a competitive car. But most important is that with all the hard work put in, the money spent, the ups and downs at the track… remember to have fun! One good run on any given night at the track, will keep someone hooked to the sport for years to come.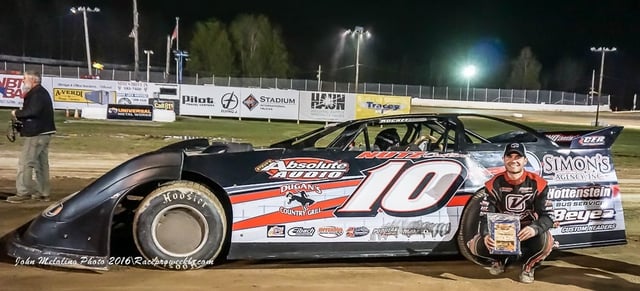 Chris Fleming and the #10 car celebrate the win at Brewerton Speedway on May 7, 2016 for the Whittaker Cars & Trux Late Models - Feature
---
SA: What is the most difficult part of what you do during the season?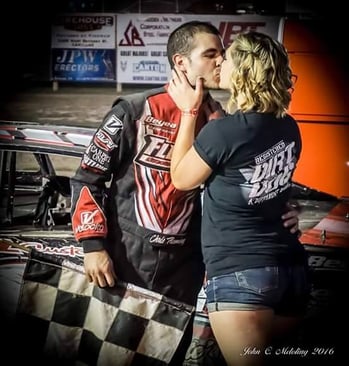 Chris' girlfriend, Rachel Moyer, helps make the grueling schedule easier to bare!
CF: The hardest part of race season is all the time that goes into all aspects of going to a race. Any given week, there are 10 to 20 plus hours put into preparing the car for those races. Then when you go to the track, you have travel time (anywhere between 30 minutes and 5 hours getting to the track – one way), you also have roughly 5 hours of time that you are at the actual speedway for the race. My least favorite part of the race season is the traveling from the shop to the track. When its race day, I just want to be at the track thinking about what I will need to do on that day or night. Going out and finding sponsors and marketing partners can also be quite difficult. I have been very fortunate to find businesses and great people that love jumping on board and allowing me to have fun doing what I love to do!
---
SA: What do you do in the off season?
CF: Typically the race season will start the first week of March and go through the beginning of October. So the off-season is usually short but a sight for sore eyes. I take a few weeks off after the final race to do some other things with family and friends. During race season it's a grind to keep things maintained on the car and equipment. In the off-season, we will build new bodies for the car, make upgrades in the cars suspension, upgrade the hauler, restock on tires, fuel, parts, etc. The off-season feels super long at times but just makes that first race back in March feel like Christmas morning!
---
SA: How does Simon's sponsorship help you?
CF: Being able to promote the "Simon's Agency, Inc." brand has been great. It has allowed my team to travel to races that I would not have otherwise been able to go to. Trips to Canada, Pennsylvania, and Iowa… The sponsorship has allowed my team to make sure the cars have the proper suspension components, spare parts, tires, fuel, and pit expenses. With Simon's Agency on board, my cars continue to have some of the nicest looking bodies and decals on them. The car typically looks one of the nicest at the track. It's very common to go to new tracks and have fans come up and point out that the cars looks nice and fast!
---
SA: What do you consider to be your most significant accomplishment to date?
CF: By far my most significant accomplishment to date was qualifying for the IMCA Super Nationals in Boone, Iowa. It's a race that competes yearly that draws in over 400 cars, with just 33 qualifying! I was able to do this (qualify) in my first attempt to the nationals.
---
Current Stats and Standings:
- Currently leading championship points at Fulton Speedway (3 races left)
- Currently 4th in Go Nuclear Series points (6 races left)
- 4 Feature Wins
- 13 Heat race Wins
- 21 tops fives
- 27 top tens
Check back in November for a final recap of Team Fleming's 2016 season!