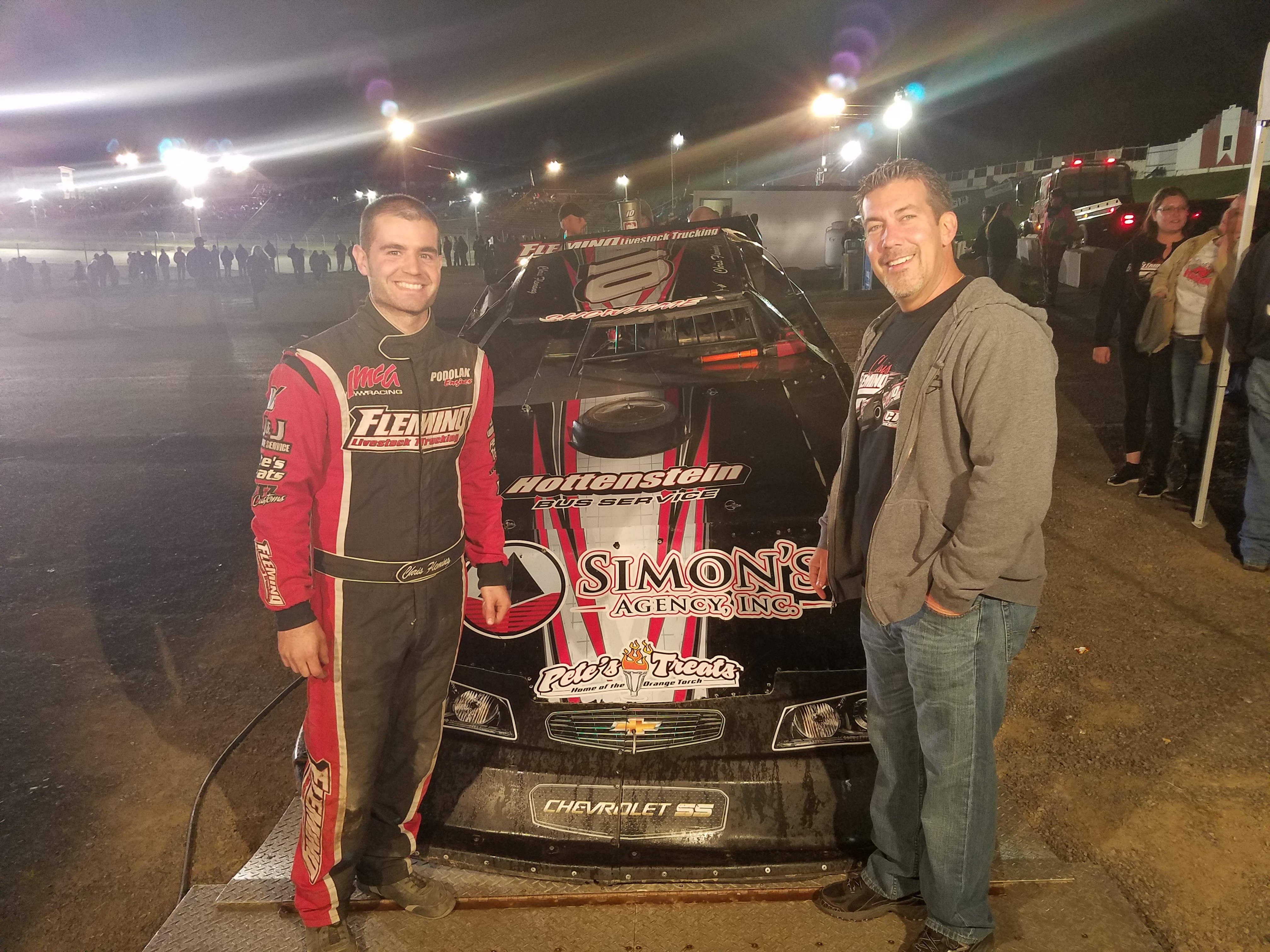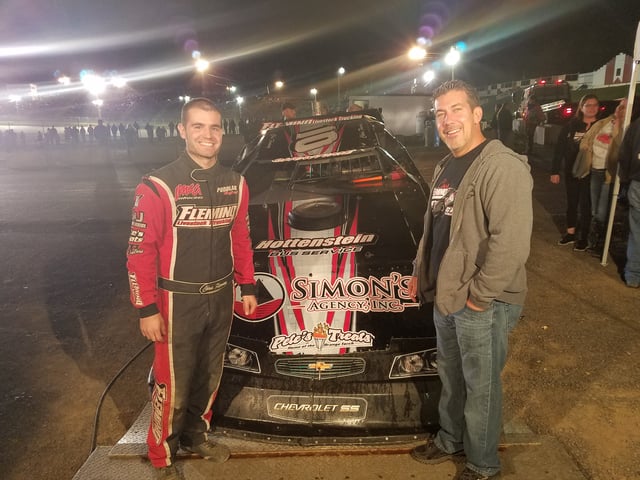 Simon's Agency sponsored Chris "Showtime" Fleming pulled out all the stops in 2016 culminating in a repeat championship of the Billy Whittaker Cars & Trux RUSH Late Models at Fulton Speedway (NY). It was a tight point battle right through the final race on Saturday, September 3rd which Chris narrowly won in the 20-lap feature having taken the lead on lap 6 and battling repeated challenges from the field as well as a final lap "slide job" by rival Jason Parkurst which Fleming countered by pulling even on turn four as Parkurst struggled to contain his momentum, and drag racing to a photo finish. Fleming clinched his second championship, winning the race by the slimmest of 0.114 second margins. In only his second season of racing Chris has his fifth win of the season and second track championship overall.
"Five wins this year. We weren't as consistent as last year to win the title, we did it by winning. Winning is definitely more fun," he said after a victory lane celebration with family and crew. On hand to witness the race were several members of Simon's staff who got to join Chris on victory lane.
"Not only were we given tickets to take our family to the race, because of Simon's sponsorship, we were able to take our families onto the track to participate in the winning celebration too! The kids were so excited and so were we! We're so proud of Chris and his team!" said Kari Piquet a longtime Simon's employee.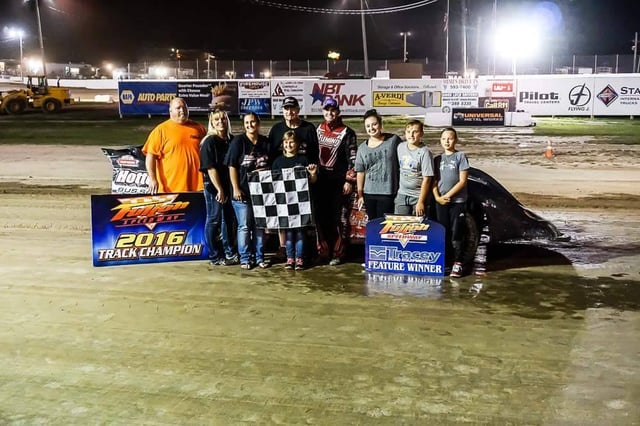 Shari Blowers, Kari Piquet and her daughter join Chris on Victory Lane at Fulton Speeway on September 3, 2016.
Four weeks later on Friday, September 30th, Simon's owner Phil Bova and several employees were on hand to attend Fleming's Outlaw 200 event for the Go Nuclear Series. At Fulton Speedway once again, Chris put on another show to remember in the Late Model Feature. After winning his heat Chris was able start near the front of the pack and didn't waste any time once the pace car left the course. Storming to the lead in the seventh lap of the fifty-lap race he continued to build distance between his car and the rest of the field but several caution flags reduced his lead and veteran racer, Charlie Sandercock was able to battle Chris through all 50 laps, eventually overtaking the second-year star to earn the victory. Chris finished just behind Sandercock and was as gracious in defeat as he had been in victory just weeks before, praising his rival, "Almost had a perfect night, but the best there is right now, passed us with just a few laps left and made us have to settle for 2nd. We had a great run and a very solid car the whole night, so nothing to be ashamed over."
Gracious to the end …
The Simon's crew was fortunate enough to spend some time in the stands with Chris's mom, Joanne Fleming of Union Springs, NY, who regaled us with tales of a generation of races for the family and in particular their continuing support and passion for their son's pursuit of winning. The best story of the night was when she told us of Chris's driving origins. Apparently a three year-old Chris snuck out of the house one afternoon with car keys in hand and managed to get into the family car, started it up and proceeded to back down the driveway before landing in a ditch and getting the family car hopelessly stuck. "Showtime" has been in the driver's seat ever since and while his driving has obviously greatly improved over the years, he still puts on a show.

To close out this incredible season, Chris's team traveled to Charlotte, North Carolina for their first appearance in the World Short Track Championship where Chris battled to a third place finish in his qualifier, falling just one place short of advancing to the championship race. For Chris, "The race in Charlotte really has made me have a sense of hunger or motivation going into the offseason. I feel as though we left some really good results out there on the table and I feel as though 2017 will truly be my breakout season in the late model division."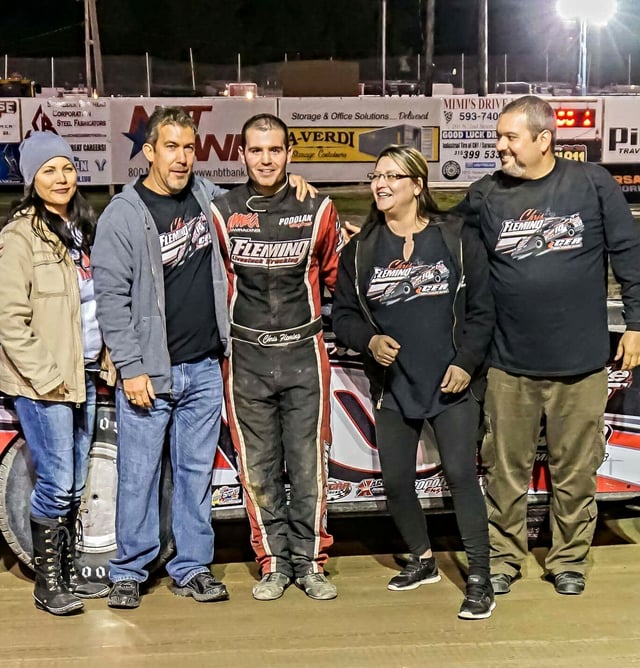 Simon's Chrissy Alexander, Phil Bova, Cortney Gibson-Hall and John Viggiano join Chris at Fulton Speeway on September 30, 2016.
---
2016 Final Stats and Standings:
- 2016 Track Champion at Fulton Speedway
- 5th in Go Nuclear Series points
- 5th in RUSH Summer Chase points
- 32 Starts
- 5 Feature Wins
- 18 Heat race Wins
- 23 tops fives
- 28 top tens
Congratulations Team Fleming on an Amazing Run in 2016!