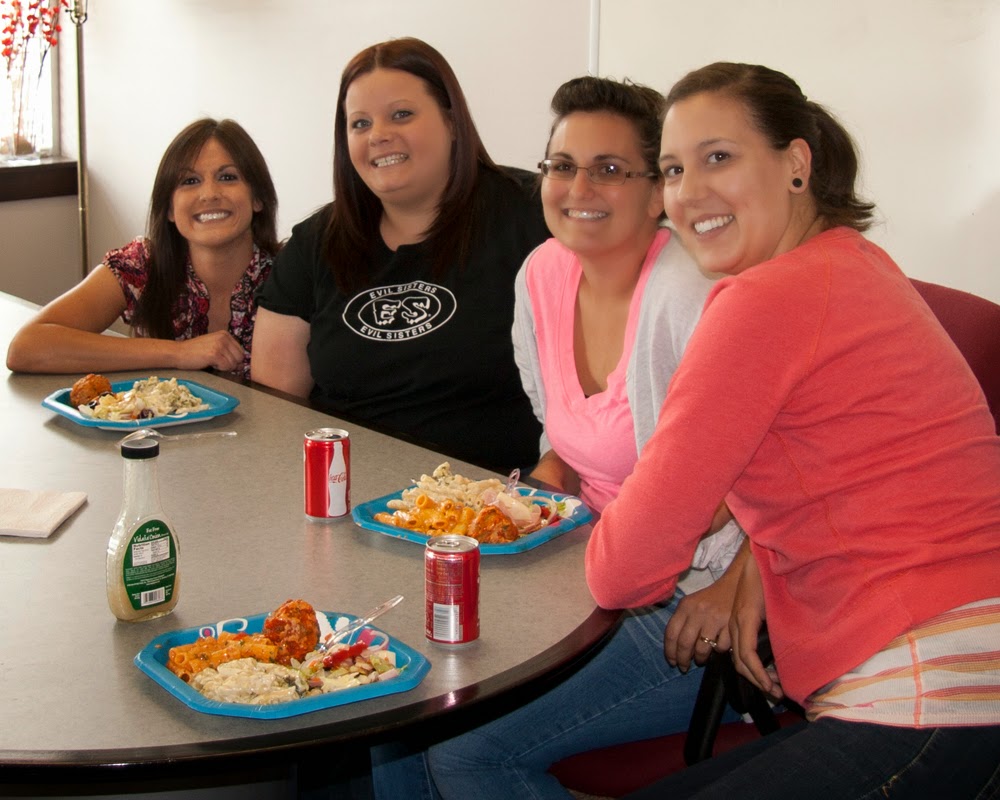 This may seem like an obvious statement but not all businesses employ this principle regularly, if at all.According to a survey conducted by the Harvard Business Review the most surprising element is how dramatically meeting employees' needs influences performance. A simple "core need" (as identified by the survey) like encouraging employees to take breaks can help an employee to be as much as 50% more engaged with their work when they return. Simply encouraging your employees to take the very breaks they are required by law to take should be very easy to implement.
The Simon's employee prize wheel is seen behind a fabulous lunch delivered from neighboring Utica Pizza Company in North Syracuse. Management sent out this note first thing in the morning: "Lunch is on Simon's today... so enjoy and finish up the month strong :)"
At Simon's Agency, Inc. we take this much further, especially when it comes to the "value core" as we consistently implement new contests and fun ways of awarding bonuses to our employees as they achieve team goals. There's nothing more exciting than pulling up to work on a Friday and being greeted by breakfast pizza or an email telling you lunch is on Simon's today. Or participating in the monthly dice roll for the "Bee Here" program which awards employees a percentage of profits simply for a month of perfect attendance!
We believe strongly in taking a proactive interest in what we consider to be our "core" – the very employees that are and will always be the foundation of this office. We understand that our services are only as good as the employees who render them.
You can find the survey here. Give it a shot on your lunch break and see how your employer stacks up.
Simon's Admin team: Courtney, Shannon, Kari and Valentyna enjoy Friday's lunch at the conference table.