We've been in the collections business for a very long time here at Simon's - fifty years to be exact! - and we've picked up a few things along the way. Periodically we will share some of these tips with you as they may help with your overall collection success!
For our first Tipping Point we wanted to share a quick story. Thirty years ago before the age of the internet and indoor smoking laws, collection agencies indexed accounts on cards that would often be stored in file cabinets or on a Rolodex. Accounts would be physically pulled from their locations and notes would be handwritten on the cards. Oftentimes the only information collected would be a name, phone number and debt amount owed to a specific client. Shortly thereafter when computers began to be the primary choice to store information it became clear that the ability now existed to store even more information about individual accounts. Additional information such as mailing addresses and Social Security numbers allowed agencies to connect the dots between debts owed by one individual to several different clients. Having this information allowed agencies to do a much better job in managing and linking their accounts.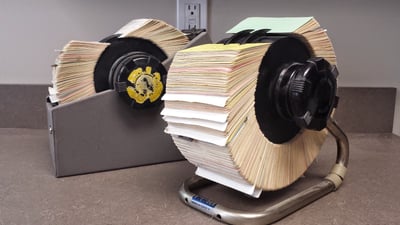 Collection Rolodex Circa 1985
Later, down the line, this information became even more relevant as it could then be used in Internet searches to find the most up-to-date contact information for that person. Social Security numbers could be used to verify the identity of an individual for credit reporting purposes. Work information could be used to verify employment. Banking information could be used to verify assets. It turned out that clients who started collecting this information ahead of the curve were enjoying greater levels of successful collections. Much more than clients who did not collect that information.

Flash forward to present day and we are faced with even greater possibilities for the future than we did thirty years ago. The Computer Age has progressed into the Information Age and the possibilities that await in the near future are quite simply mind boggling. So the more information you can gather when your patients are filling out your information requests or a consumer is filling out your credit application the better your overall collection numbers will be (not to mention your own billing numbers before they even get to collections)!

You may consider asking for additional pieces of information like Email addresses, cell phone numbers, employment history, vehicle identification numbers (VIN) (if appropriate for your industry), or whether they own their home. Most of this information is already relevant but could mean the difference between settling a debt and losing the ability to collect on it entirely. No one can tell us exactly what the future will bring but, with over 50 years of operating data we can be reasonably certain that the more information you collect from your clients and patients the better we can all do in collecting their current and future debts.