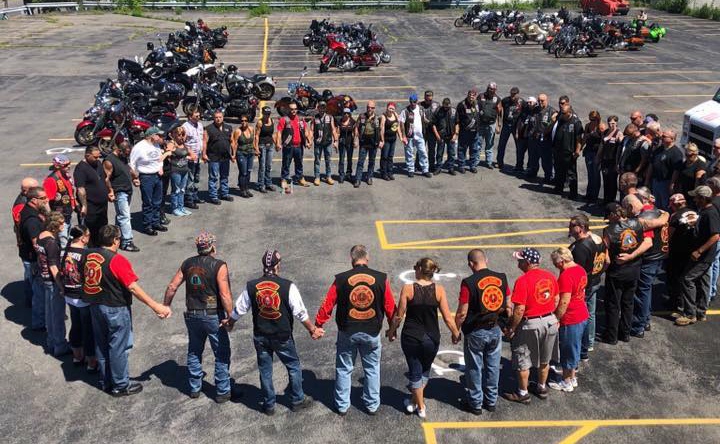 Simon's employee, Thomas M. Ralph III, also known as "Corpse Grinder" by his brothers (due to his former profession as a meat cutter and his love of Death Metal) in the Hades Hounds Law Enforcement Motorcycle Club (LEMC), has made it a point in his life to make an impact in the lives of the less fortunate in Central New York. As President and Co-Founder of the Cayuga County chapter of the LEMC, Tom has been on the front lines of their grass roots efforts.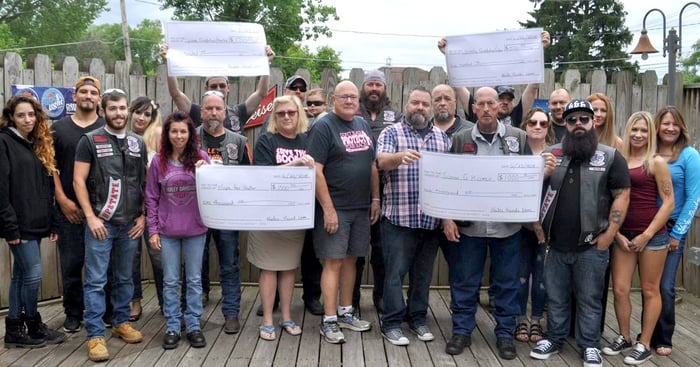 Members of Hades Hounds stand with supports and the checks they raised and would donate to local charities during their first Annual Ride for the Ribbons.
According to Tom, he has "been in the LEMC world for literally my entire life." With 4 generations of his family associated with LEMC's, seven immediate family members affiliated with law enforcement or LEMC's and a background in private security, becoming President of the Cayuga chapter of Hades Hounds was a natural inclination.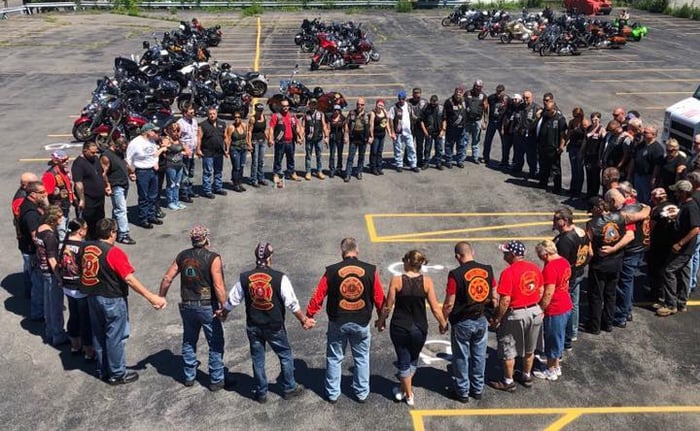 Riders from around CNY, including members of Hades Hounds take a moment to pray before their charity ride for a fallen fireman's family and burn victims in Nedrow, New York.
Tom volunteers with the V.A. Hospital in Syracuse and works with veterans every chance he gets. His club answers the call whenever they can, tirelessly engaging in support efforts like a ride for a fallen fireman with all proceeds benefiting the fallen man's family. While not every member was able to ride, all of their members showed up and all contributed to the family.
Not long after and with the help of the owner of a local tavern, the Hades Hounds organized their first Annual Ride for the Ribbons fundraiser that was able to raise $3,000 for three local charities focused on helping those battling cancer.
The Club as a whole is also responsible for helping to rescue several dogs from awful circumstances and they are not stopping there as they "are on deck to rescue a few more," according to Tom. In fact, Bart, (pictured below), one of their first rescues became a permanent member of their crew thanks to the Cayuga Chapter of Hades Hounds LEMC's secretary, Joe, who adopted him from Helping Hounds of Syracuse and brought him home. Bart is now an honorary member and unofficial mascot for the Chapter.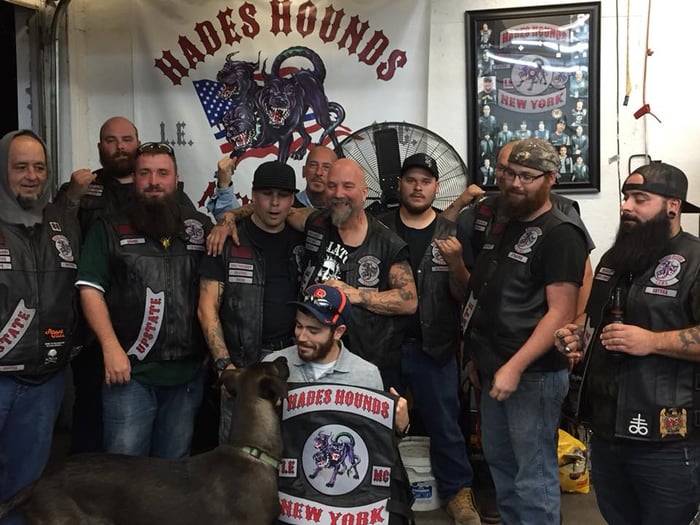 Bart, the loyal rescue dog, celebrating with his friends in the LEMC.
At Simon's Agency, we are extremely proud of our employees' efforts to help those in need in our communities. Tom exemplifies this effort and the Simon's family would like to honor and thank Tom and his family at the LEMC for all the good they do for the less fortunate in Central New York. And, yes, Tom, we'll hang your next flier in the break room. And the one after that. And the one after that…