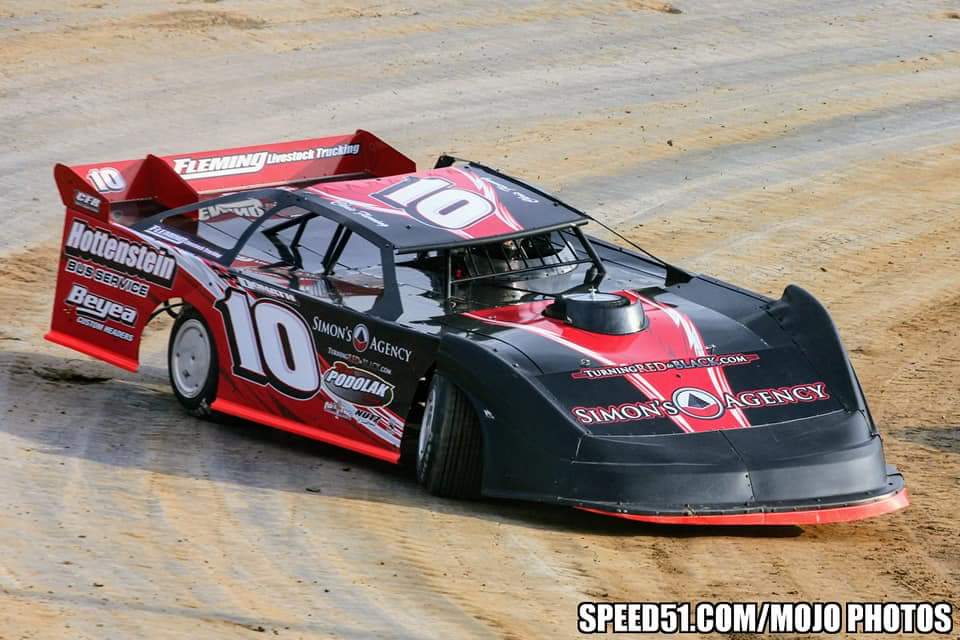 For several years Simon's Agency, Inc. has sponsored Christopher Fleming and the Chris Fleming Racing (CFR) team. For the 2019 season Simon's is once again the title sponsor of the #10 car. Simon's catches up with Chris on a busy race season, and more importantly a busy life season too!
---
Simon's Agency (SA): We always start in the same place, and your answer hasn't changed much, but with the year you've had… perhaps something else has piqued your interest? What are you rocking on your iPod this year? Cadillac Three and Shinedown have taken the cake the last few years…
Christopher Fleming (CF): Over the past year I've really listened to a lot of Florida Georgia Line at home and in the shop. Other notables that I will listen too are Mötley Crüe and Luke Combs! I like what I like. I have no problem listening to the same song over and over while working on the race car.
---
SA: You've been married over a year and have now started a Family – congratulations by the way on the birth of Ava on July 26th! That must have been interesting coming during the heart of race season! How has everyone handled Ava's arrival?
CF: Yes! Rachael and I welcomed Ava into the world ten weeks earlier than we have planned on which landed in the middle of the race season! She has been great and quite the overachiever! With Ava coming ten weeks early it landed her in the NICU in Syracuse for 35 days. Over that stretch of time, she did amazing things impressing doctors and the nursing staff. Even with that, she was not allowed to be seen by any visitors besides myself and her mom. We kept people up to date on social media the best we could! Ava received so many loving messages and support from friends and family. Now that Ava is home and doing well, we will likely be having visitors of some fashion for some time to come!
---
SA: Can you tell us what getting that call was like? I mean if there were ever the perfect time to be a racecar driver…
CF: Rachael's pregnancy changed its progression after going to a standard doctor's checkup, only to find out she had preeclampsia and the baby needed to be delivered ASAP! At this time, I was at work only to receive a call that Rachael would be getting transported to the hospital. I made my way to hospital (without speeding to much). I was then with Rachael during the next two roller coaster days. Going through all of that has made other daily things seem so minor in comparison.
---
SA: I know as we were approaching this interview that you were excited about Ava finally coming home. How has it been balancing work, racing, life and love with basically living at the hospital?
CF: Answering this question could take a page or two but to keep it short and sweet… Of course Rachael and I had so much excitement over bringing little Ava home and starting our life with her. Our daily routine when she was born was greatly altered as having a newborn generally would. However, going to the hospital 45 minutes away for 35 days in a row back and forth, then to work, catch dinner with the Mrs., try and work in the shop on the race car, then finding time to sleep... it was all a blur! (laughing) but so worth it now!
---
SA: So obviously Ava's arrival was about as high of a high-pressure situation as one can experience, can you give us any examples of high-pressure situations you've felt on the racetrack?
CF: Honestly, there really has not been any high-pressure racing moments that equate to that of a birth of a child. Ava's birth certainly was high-pressure as everything was out of our control. In this aspect, it's very similar to things that happen on the racetrack. So much is out of my control and there are hundreds of variables on the track. Things that you can control you try to do, such as, being prepared as a driver and set up on the race car. But then the variables you cannot control such as the other competitors, racetrack variances, part failures and the weather! In saying all of that, each and every week I place pressure on myself to perform and before each race, the feeling turns into a high-pressure environment. Then this only gets ramped up for bigger money special races and or the seasons your able to put yourself into position to win a championship! You typically find a way to go all out and then some in these instances even though you may have won big races or championships in the past, the nerves still can get to you in the present!!
---
SA: It's been quite a year for you as you also turned 30 this year! What did you learn over the last decade that you will help you in your next decade?
CF: Turning thirty this year definitely took a bit of a backstage to life! I was and am completely fine with that being the case. Just being able to continue to build a life with Rachael and now Ava was huge! I remember being 20-ish living at home, not worrying too much about anything, tinkering on a race car and just wanting to race to now being 30 with a mortgage payment, a wife, a new baby and millions of things to worry about/take care of, as well as tinkering on a race car lol life has gotten much more hectic yet simplified at the same time! I guess I've learned to work hard and by doing that, good things with happen to you! It's hard for me to look ahead to see what the next 10 years could bring. I feel like I'll be living in the moment now more than ever before.
---
SA: Do you find yourself a little less risk adverse with a wife and baby at home than maybe you did beforehand, or do you have to just put that out of your head and focus on the task at hand?
CF: For now, I feel like my driving style has not changed on the track. I have driven a certain way for such a long time, that it's the only way I know how too! Outside the race car, I feel I have found myself thinking about the baby trying to make sure I'm there for her and Rachael and also trying to not to turn into a bigger softy than I already am! (laughs)
---
SA: Let's try something new this year… Let's ask Rachael a question! Rachael, we've seen you running all over Fulton Speedway the last few years, it must be hard with maternity coming early for you as I'd imagine it's kept you off the track. What are your favorite "jobs or duties" you perform at the track and what do you miss the most this year?
Rachael Fleming: Thank you for this opportunity. With Ava coming early it shortened my workload at the racetrack as well as my ability to support Chris at the track. Besides supporting Chris with putting tear-offs on his helmet and telling him good luck just before he goes out, I miss working with the weekly sponsor partners the track has. Bringing them down to victory lane after each race is always a highlight of each race night and it's one of my favorite "jobs".
---
SA: And back to Chris to wrap this up… We had a funny exchange last year on the last question… This is where I ask you to give me a question to ask you next year. In 2018, you gave me "When is the future racer coming?" to which you replied last year, "Well there is no future racer here yet… but hopefully Rachael and I will have one sooner than later." Rather prophetic, if not a little late, wouldn't you say?
CF: I'd say the baby came at the perfect time! No idea if she will be a racer or not, but she certainly will be a racers daughter! (big grin!)
---
SA: So, then you told me that for this interview, "Hopefully 2019 we will be back to our old form on a regular basis! The question can be asked, 'How does it feel to be the track champ again?' You are certainly back to old form, currently running in second place at the track and probably second place at home behind Ava, so what would a championship feel like for you and your family this year?
CF: Winning a championship is the biggest reward you can get for all of the hard work you put in during the season. Coming up short and not winning it definitely hurts after all it's the primary goal for the season. Pulling off the championship gives you so much confidence going into the following season as well as bragging rights throughout the off season. The champion is the benchmark for all the competitors going into the following year. I will forever be finishing 2nd in life points to baby Ava (laughs) I don't stand a chance there!
---
SA: Either way, we're proud of you on the track and off of it. So, what are we asking you next year, Chris? If the "formula" holds, we could be talking to the champ again!
CF: If you're back on top as the champion, what were the largest contributing factors that helped you get to that point?
---
2019 Fulton Statistics
12 races
2 Feature Wins
4 Second Place Finishes
11 out of 12 Top Five Finishes
Currently 2nd in points @ Fulton Speedway