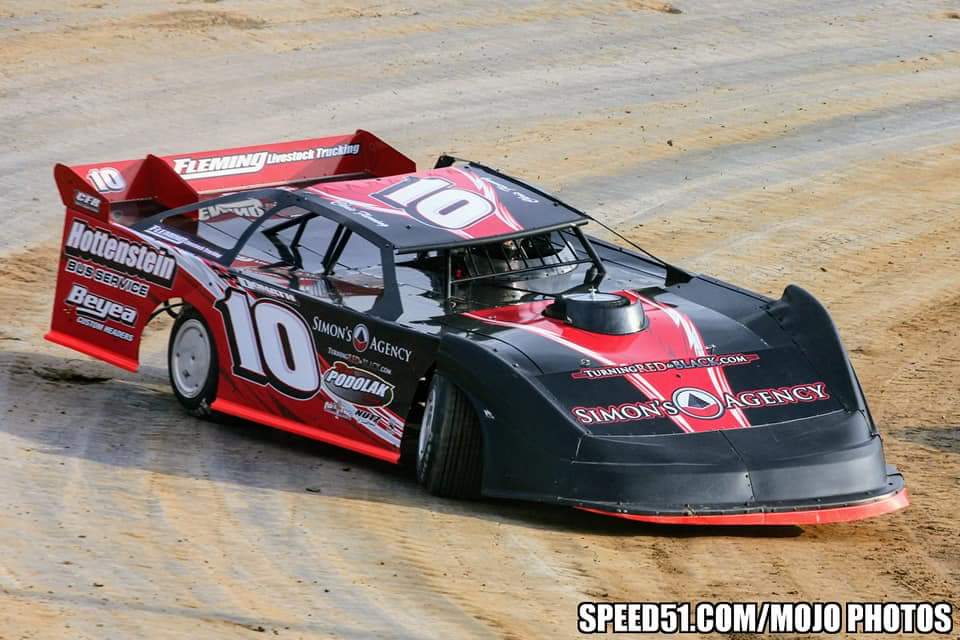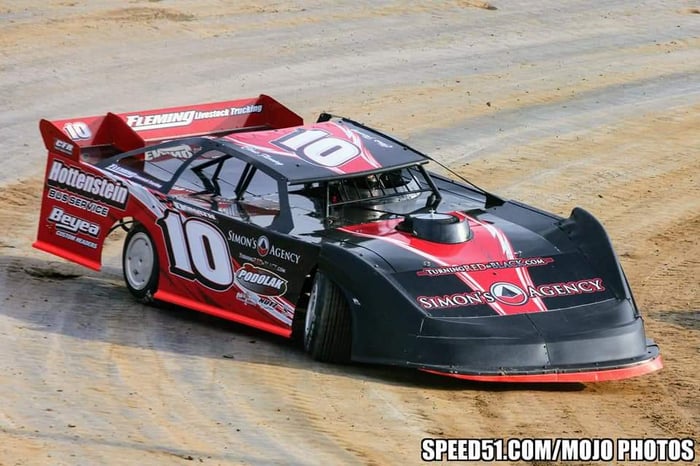 For several years Simon's Agency, Inc. has sponsored Christopher Fleming and the Chris Fleming Racing (CFR) team. For the 2018 season Simon's is once again the title sponsor of the #10 car. Simon's catches up with Chris on a busy 2018.
---
Simon's Agency (SA): So, what are you rocking on your ipod this year? Anything new to add to your list from the last two years (Cadillac Three, Shinedown, Incubus, Eminem, Sam Hunt)?
Christopher Fleming (CF): Not much has changed in this department for me. I guess you like what you like! Still listen to Shinedown and Cadillac Three quite a bit.
---
SA: You got married this year to your number one fan and supporter. What was that like and how has it changed your approach on the track?
CF: Rachael and I had an awesome wedding day with lots of family and friends at our ceremony and reception. I feel the day couldn't have gone any better and it will go down as my biggest win of 2018 and my career! However, it has not changed my approach on the track at all. When I go to the track I'm there to compete and try to win.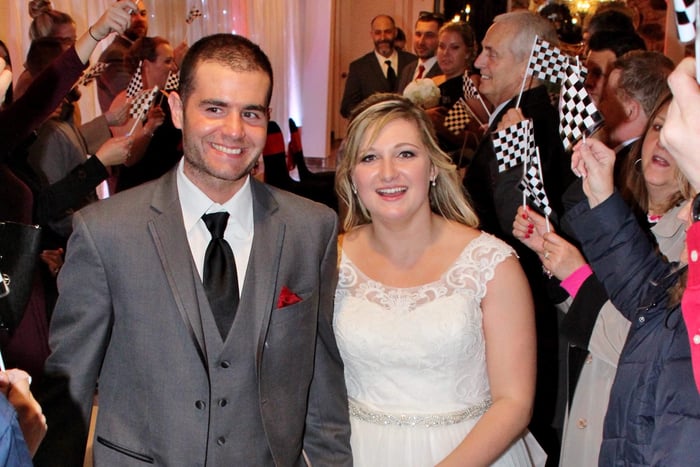 Chris's biggest career win is Rachel.
---
SA: Last year was a grind for Team Fleming, how gratifying has it been getting back in the winner's circle this year?
CF: Last season was truly a tough one for the team and myself. We wrecked the car badly and had plenty of bad luck. It was the first time in seven seasons that we did not end the year with a championship. We entered 2018 with high hopes and high expectations to get back to our "winning ways". However, 2018 has gone very similar to how 2017 went. The second race of the season we broke our new motor. Then we go on to breaking a driveshaft one night, blow a tire leading the race one night, got wrecked going for the lead on another night, and all of those nights were hard on us.
But we came back and won a couple races at Fulton Speedway and what a relief it was. The first win of the season was quite an emotional one and I was quite choked up in victory lane. I had so many competitors come up to me and congratulate me and the team, as well as the fans in the stands were cheering like I haven't heard in sometime.
---
SA: What percent of the races in your career do you remember?
CF: This is a very interesting question! I will tell you that I remember my biggest wins and my worst nights and most of the nights in between. So, to give you a percentage I'd say 85%. If someone starts to talk about a certain race or show video highlights of a certain race, I am able to put myself back into the car and remember just about everything good or bad about that particular race. The ones that stick with you are the big wins and the woulda/coulda/shoulda nights.
---
SA: What's your personal code of conduct on the track?
CF: My personal code of conduct on the track is very simple, "I'll race others the way that they race me". But to this day, after 10 years of racing I have never wrecked a single person or retaliated for being done wrong. My retaliation is to beat that person in the finishing results.
---
SA: Who is a driver amongst your peers that you really enjoy racing with?
CF: Racing is definitely a family community. Teams and drivers help one another more than any other sports discipline. Off the track it's easy to become friends with competitors but once on the track, all you want to do is beat that competitor at all cost. There are a number of drivers I enjoy racing with but if I had to choose one it would be Kevan Cook (I have raced against him for over 10 seasons).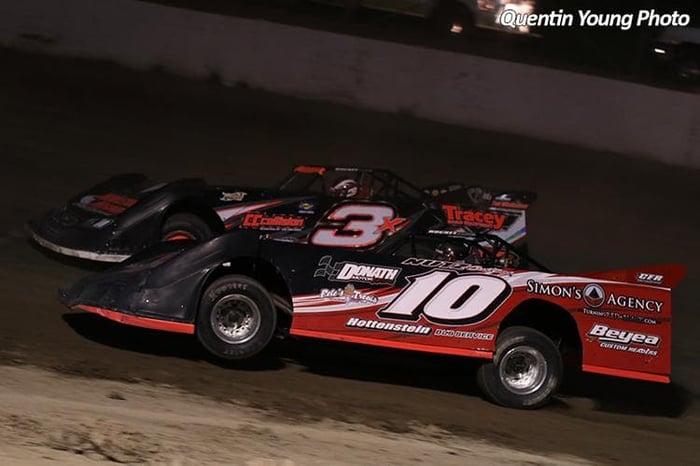 Kevan Cook and Chris Fleming facing-off in 2018
---
SA: What do you believe are your key strengths on the track?
CF: I believe my key strengths on the track are: patience and awareness. Patience as I usually take my time trying to get to the front and awareness as I understand the situations I'm in racing my competitors, as well as when is the best time to make moves.
---
SA: What parts or subjects of your education do you see as relevant to racing?
CF: Racing has so many aspects to it to be successful. There is a business piece and a technological piece. In college, I went to school for business and marketing and there I learned some tools to help promote my racing team. In today's world to go fast on the track and to be able to race on a weekly basis, a team needs to have some type of sponsorship coming in. I feel that an education in marketing is very relevant.
Racing race cars seems so simple, but technology has made is much more complicated. To go fast you must understand geometry, physics, aero, etc. These are all things that education within science and technology fields would be helpful.
---
SA: Be it that your nickname is "Showtime," what's the "Showtimey-est" thing you've done in 2018?
CF: Well, one of our victories this season came on "topless" night for my division. It was just a race where the track had us take our roofs off and race. So when I won, I came out of the top of the car (where the roof would normally be)... much to the fans' enjoyment!
---
SA: Last year the last question I asked you was "What question do you want me to ask the future you?" You said, "When is the future racer coming?" So, let me ask you, is he here yet?
CF: Well there is no future racer here yet… but hopefully Rachael and I will have one sooner than later!
---
SA: So, it begs the question again, what do you want me to ask you next season?
CF: Hopefully 2019 we will be back to our old form on a regular basis! Then the question can be asked..."How does it feel to be the track champ again?"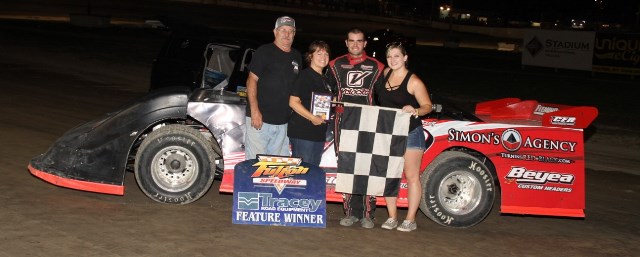 The heart of the CFR Racing Team: Chris Fleming surrounded by parents, Kevin and Joanne, and wife, Rachel following the first win of the season at the Fulton Speedway on July 28th.
---
2018 Statistics
Stats :
30 races
2 Feature Wins
9 Heat Race Wins
18 top fives
24 top tens
Finished 5th in points @ Fulton Speedway
Finished 2nd in points @ Can Am Speedway
Finished 10th in RUSH Summer Chase Points