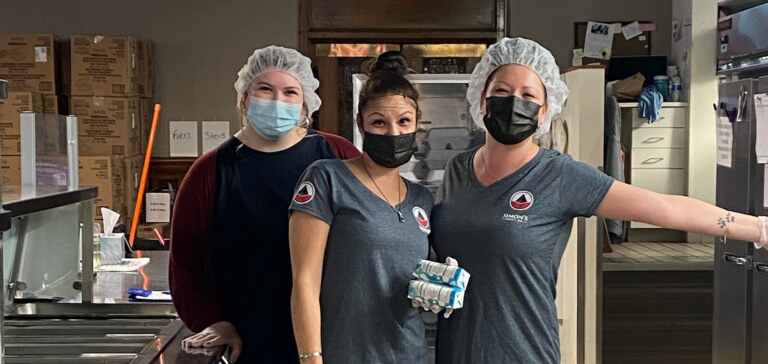 On Saturday, November 7th, Simon's Agency volunteers gathered at the Samaritan Center for Simon's fourth annual Volunteer Day where it prepared and served "to-go" meals to those in need near Downtown Syracuse.
"Each year that we volunteer, I always leave feeling the same way; overwhelmed with gratitude. The joy and appreciation of the people we are able to serve is worth every hour spent. The smiles are genuine and the thank-yous are heartfelt. It is a wonderful feeling to help those in our community, whether that be with a warm meal on a cold day or some extra hats & gloves for their families. It has become a tradition I am very happy to be apart of," said Simon's Taylor Portzline-Fanizzi
Simon's Dore Schaefer also echoes those sentiments, "I am so grateful for the opportunity to do this annually. I like Taylor am very grateful that I can assist the Samaritan Center," as did Sherry Lane, "I am beyond blessed that I had the opportunity to help our community. It is a very humbling experience and heartfelt. The staff at the Samaritan Center are beyond kind, compassionate and the hardest workers I've ever seen! This year was very different due to COVID, however the people that we served were so nice and appreciate that we were doing this."
Everyday Samaritan stalwarts Marc, Maryanne and Mike were there to help lead our team once again and it was nice for the Simon's team to reunite with everyone at the center in this tough year.
Simon's also collected goods from staff members this year and was able to deliver items to the center for those in need. Simon's owner, Phil Bova once again donated the cost of the meal on behalf of the entire Simon's team.
For our entire team, one day of helping to make a difference once again opened our eyes to the challenges our fellow neighbors face especially in this most challenging year. It is our pleasure to provide a little love to a community that so desperately needs it right now.
Simon's next Volunteer Day will be held at the Samaritan Center on Saturday, November 13, 2021. For more information on how you can help the Samaritan Center, please click here.