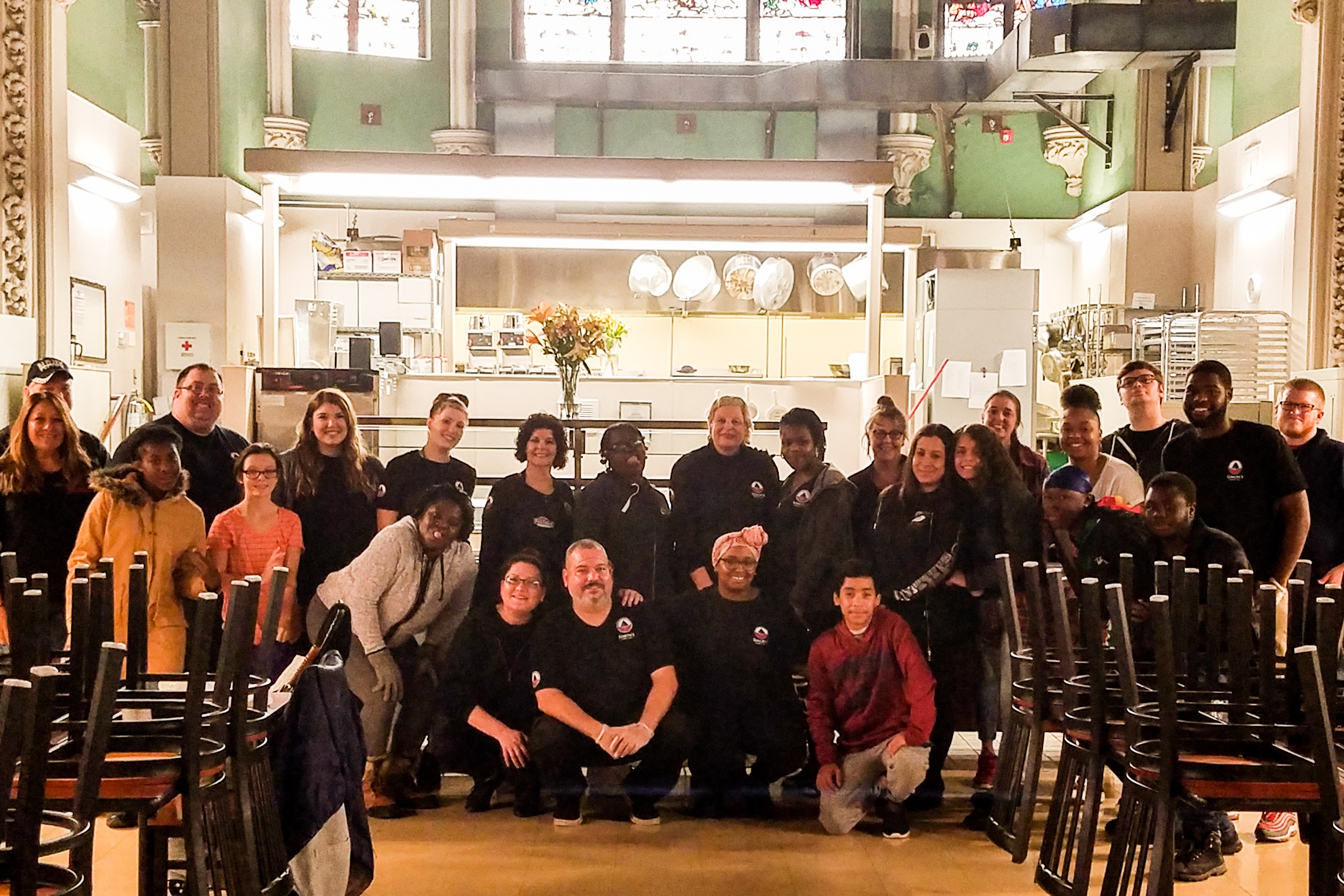 On Saturday, November 10th, Simon's Agency volunteers gathered at the Samaritan Center for Simon's second annual Volunteer Day where it prepared, cooked and served nearly 200 meals to those on the City of Syracuse's north side and downtown area on the first blustery weekend of winter weather this season.
It was truly our pleasure to have our second annual #VolunteerDay at the @TheSamCenter on November 10th! We served nearly 200 meals and donated even more items for the needy. We are very proud of our staff and look forward to doing it again next year! pic.twitter.com/jbO1yJNPQW

— Simon's Agency (@SimonsAgencyInc) November 20, 2018
Simon's Sherry Lane was especially cognizant of this, "My experience was very humbling. Sometimes we take simple things like a roof over our head and food on the table as a 'given.' It was a very cold day on Saturday and when the people started coming in you could see how cold they were. One person couldn't pick-up his plate because his hands were so cold. I smiled at him and asked if I could help him, and his comment back to me was that I already had just by smiling at him. And we heard this from many people that day!"
Samaritan team members Marc and Maryanne were once again on-hand to help lead our team through the various jobs – from preparing the chicken and vegetables, mixing the mashed potatoes and preparing numerous sandwiches, fruit bags and pastries to be handed out throughout the week to serving it all and cleaning up afterwards (no small feat for those scraping and washing the dishes!). Marc's knowledge in the kitchen area and appreciative, easy-going nature balanced well with Maryanne's focused attention to detail in the front of house making our jobs as volunteers that much more productive over the few hours that we spent there.
This observation is echoed by Simon's employee, Hans Keller, who says "I know that I can speak on behalf of myself, my father, and my niece when I say that we all had a good time volunteering on Saturday. Marc and the rest of his staff was very helpful in explaining everything that went into running a successful service."
For Simon's volunteer, Cortney Gibson-Hall, the experience was also rewarding: "This was my second year volunteering with Simon's at the Sam Center and it is such a rewarding experience to help those in need and for us to be a part of a community that comes together to help donate food, clothing and whatever we can while also preparing a nice meal to serve to folks that are so grateful – it's a warm feeling that can't be described with words alone. It's hard work preparing the food and then cleaning up, but the reward is in the people we serve and the fact that we can put a smile on their face if only for a couple of hours on a cold Saturday afternoon."
Simon's also collected goods leading up to the event and by the time Volunteer Day rolled around we stuffed the back of an SUV full of everything from a vacuum cleaner, clothing, toiletries and socks to canned goods and serving dishes. It was an eclectic mix of goods with also featured a wonderful donation from our friends at Syracuse Eye Physicians who sent Mary Jo over to us with a big box of stuff to bring with us! We also owe a very special thanks to Simon's owner, Phil Bova, who graciously donated the cost of the meal as well as items he added to the donation pile. This greatly inspired every volunteer to represent Simon's with the same compassion and reflect the generosity shining from the very top of our organization.
Another Simon's volunteer, Taylor-Portzline Fanizzi, summarizes it best: "Volunteering brought me an overwhelming sense of community and joy. The way a simple smile lit some of the people up was so heartwarming. The trivial things in life don't seem to matter too much when you're in an environment like that: focusing on lending a hand to people who need it more than yourself. Seeing the difference we made with half of a day made me want to do that every day!"
As an organization, we are proud to continue this annual day of volunteerism and are happy to report that this year was as rewarding as last year for all involved!
For our team, one day of helping to make a difference opened our eyes to the challenges our fellow neighbors face and allowed us to return a little love to a community that so desperately needs it.
Simon's next Volunteer Day will be held at the Samaritan Center on Saturday, November 9, 2019. For more information on how you can help the Samaritan Center, please click here.