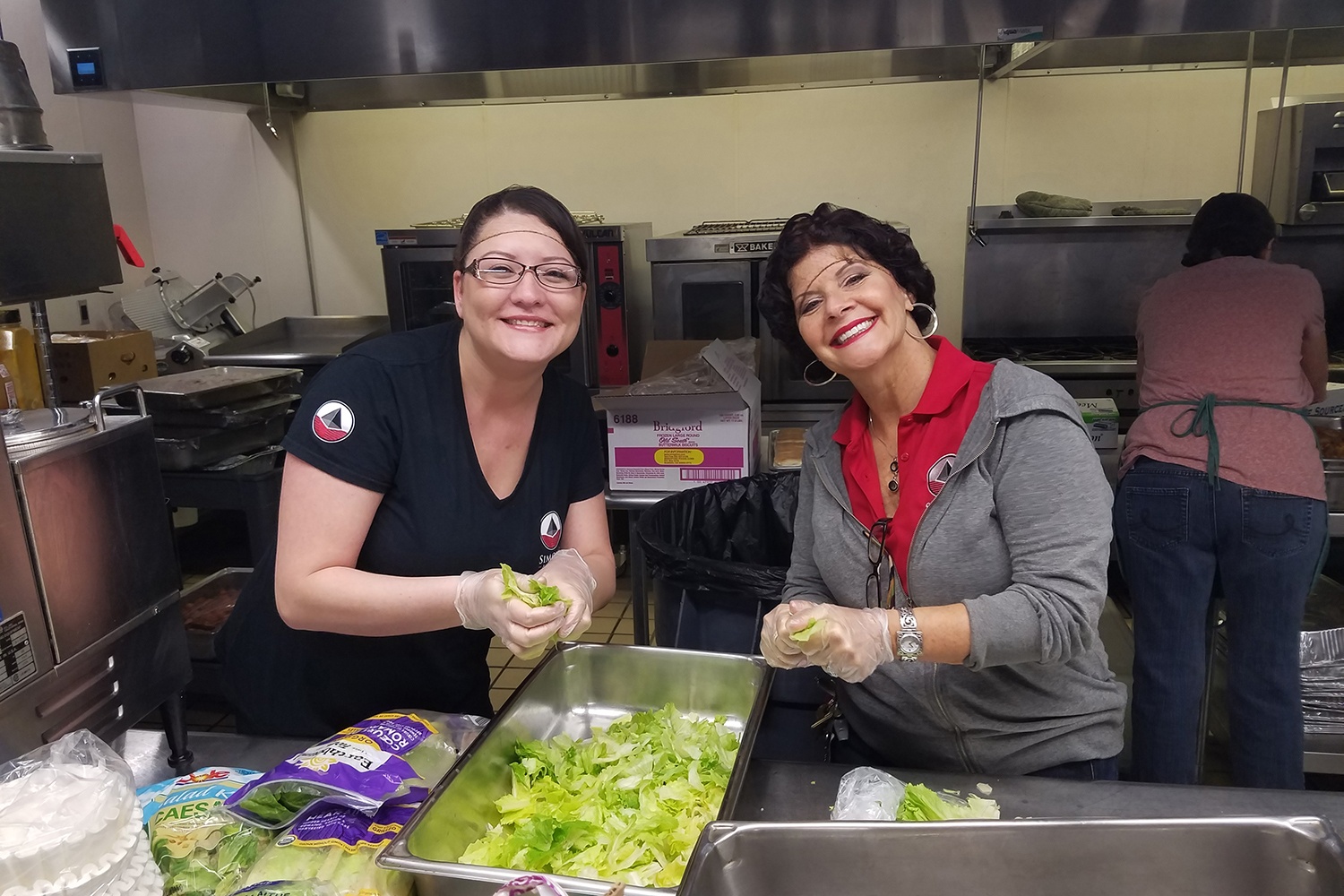 On Saturday, October 14th, Simon's Agency volunteers gathered at the Samaritan Center on Syracuse's North Side near downtown. The early crew helped Samaritan volunteers Marc and Maryanne prepare a meal of stew, biscuits and salad that we were to serve for lunch. We also bagged grapes and split up pastry donations into servable portions, some of which were served that day or divided out for bagged lunches and meals for the following week. Simon's owner, Phil Bova, contributed the funds required to pay for this meal and blessed us with his encouragement and full support of this initiative. Every volunteer was excited to represent Simon's and reflect the generosity shining from the very top of our organization.

As an organization, we are proud to have initiated this annual day of volunteerism and are happy to report that it was a resounding success! Not only were we able to serve so many meals, we were also able to ignite the flame of volunteerism for those who participated as well as their extended families. For those who had not had the experience of volunteering before this event, their involvement proved to be humbling and life-changing.
"It was a wonderful experience," said Jeanette Santiago, "I was able to share this experience with my son, he felt really good after helping. I was stationed at the coffee spot and was able to share coffee and conversation with people who just needed it. It was a humbling experience, especially when the people would tell me to keep smiling, it seemed like they don't see too many smiling faces. I'm grateful to have volunteered and look forward to the opportunity to do so again."
For Melissa Ramon's family, it gave them a different perspective from their own, "This Volunteer Day really gave me a different image of life and how to be grateful for what we do have and how blessed we are every single day. It also gave my kids a chance to appreciate what they have and it made them see a different aspect in life. It was really life changing for me and my kids. It was an amazing day and I would do it all over again."
Shannon Goins' experience was equally profound but in a much more personal manner, having lost her own brother to addiction in January 2016. Her task was to rinse out the "fifth sugar" at the bottom of the coffee cups so that the dishwasher could clean them properly. As she puts it, this was "a whole job dedicated to rinsing out that pesky fifth sugar that defies the laws of logic and simply refuses to dissolve. Couldn't help but giggle. Didn't think anything of it until I was hit with a sobering moment… it was explained that many of the people enjoying the meals at Samaritan are addicts, or recovering addicts." It turns out that sugar can help curb certain cravings or can act as a holdover by increasing the level of dopamine in the brain. "My heart sank as I realized just how many fifth sugars I was rinsing out of those coffee mugs, the faces that were handing them to me and what it exactly meant."
By now the news of opiate addiction in Upstate New York and around the country is front and center, but coming face-to-face with it makes it real and puts on display the human and social carnage it leaves in its wake. For our team, one day of helping to make a difference opened our eyes to the challenges our fellow neighbors face and allowed us to return a little love to a community that so desperately needs it.
Shannon summarizes this well by saying, "Spending every day feeding the hungry and serving BIG slices of humble pie to folks like myself… Samaritan Center YOU are the real hero. Thank you from the very bottom of my heart."
We want to give a special thank you to Robert Graves at North Area Meals on Wheels who contributed a bunch of items to really help bring us over the top with the items our staff collected and donated themselves. We were able to provide dozens of deodorants and shaving razors as well as socks, gloves, hats, knitted apparel, and a bevy of food items – all of which will come in very handy at the center, especially as winter approaches.
Thank you to Samaritan Center staff members, Scott, Brenda, Julie and Amy for helping us schedule this event and participate in a meaningful way. Thank you to Marc and Maryanne for your immense knowledge and patience with us during and after our service – your leadership and friendship left a profound mark on our team. And thank you to John at Believe in Syracuse for encouraging us and connecting us with the Samaritan Center – your continued work in support of Central New York communities is a fine example to all.
Simon's next Volunteer Day will be held at the Samaritan Center on November 10, 2018. For more information on how you can help the Samaritan Center, please click here.