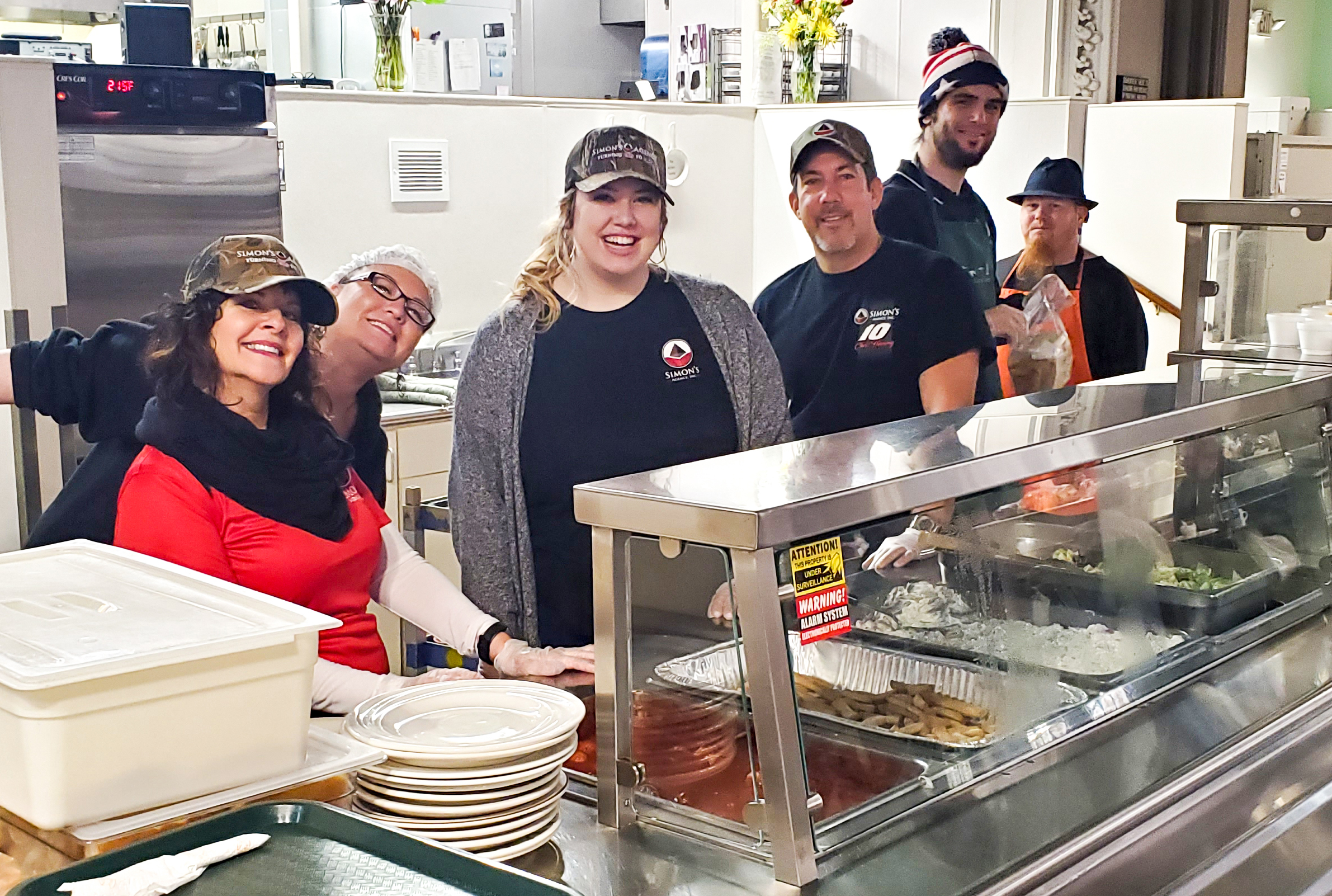 On Saturday, November 9th, Simon's Agency volunteers gathered at the Samaritan Center for Simon's third annual Volunteer Day where it prepared, cooked and served meals to those on the City of Syracuse's north side and downtown area on the first weekend of winter weather in our community. It was a good thing we were able to hand out winter hats as well!
Simon's Cortney Gibson-Hall felt the experience this time around was just a gratifying as the first two, "I get more and more excited to volunteer at the Sam Center each year! Just being able to put a smile on someone's face even though they may be facing difficult circumstances right now. Many of us have been in tough positions like this and for one day to just try and make another person happy for a moment warms my heart to the fullest! Especially during the holidays - it's a warm and happy environment from the guests we serve, to our colleagues who volunteer with us and the everyday staff of the Sam Center who are there day-in and day-out! Cant wait to do it again next year!
Everyday Samaritan stalwarts Marc, Maryanne and Mike were there to help lead our team through the various jobs – this year mixing sauce and preparing meatballs, salads and sandwiches. Marc's patient help and knowledge in the kitchen area are always appreciated and this year will be rewarded by the new ranges the center could purchase with the assistance of the donation that Simon's Agency's Arne Salkin was able to help the center obtain from a private charity.
Shannon Goins was able to get into the spirit by handing over her own boots, socks and a throw to a young couple who were desperately searching for a jacket. "Those two smiles were my favorite of the whole day. And the Samaritan crew and Simon's Agency always know how to turn on the smiles. There was a comment made by one of dinner guests saying how fun we all were to spend time with and how he'd wish we'd come more often. Warmed my heart to hear that!"
Simon's Tien Truong echoed that same sentiment, "I definitely felt the spirit of love, caring, and sharing from each individual volunteer of Team Simon's! I'm proud to be a part of this team!"
Jeanette Santiago was proud to make it a family outing with her son, "It was a great experience for my 14 year son and I. It felt great being able to take a little bit of our time to help such a great cause. It set a great example to the youngsters there to appreciate more in life. It makes me proud to show my son and others I am part of a team that is not only charitable but caring."
Speaking of families, one of Simon's most dedicated volunteers, Melissa Ramon wasn't able to volunteer this year as she is on maternity leave, but her son, Reuben and daughter, Kayla both volunteered for their third straight year and handled the always busy coffee station as the ultimate brother/sister tag team! It is always to Simon's benefit to have these hardworking volunteers join us each year.
Simon's also collected goods leading up to the event, including a tip jar at the HFMA healthcare conference at Turning Stone earlier this fall. By the time Volunteer Day rolled around we had all sorts of canned goods as well as a plethora of hats, gloves, socks, and toiletries to bring to the center. We also owe a very special thanks to Simon's owner, Phil Bova, who graciously donated the cost of the meal and joined us on Saturday to help serve the meal. This greatly inspired every volunteer to represent Simon's with the same compassion and generosity our organization shares from top to bottom!
Finally, this year, Simon's was also able to help the center secure a $5,000 donation through a private foundation through one of its employees which the center used to purchase and install two new ranges for the kitchen.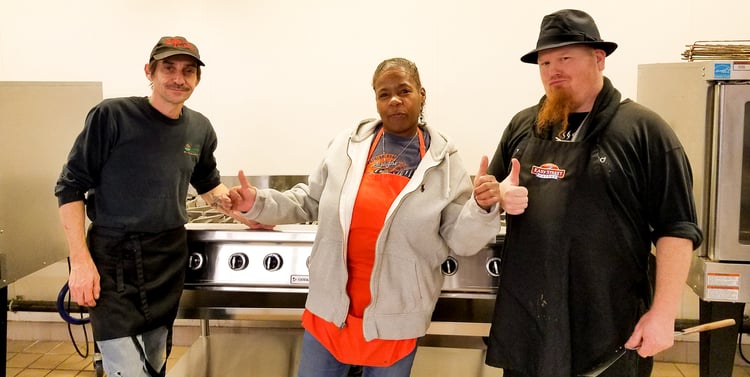 Sam Center Kitchen Gurus - Marc, Brenda and Mike - Stand in Front of their Brand New Stove Tops!
First time Simon's volunteer, Kayla Winsor, shared her excitement after the fact: "It was extremely heart-warming, fulfilling, and an all-around remarkable experience. I feel truly grateful to have been a part of giving and simply receiving smiles in return. I feel so blessed to be a part of a company that gives back to the community and I look forward to next year's volunteer day and many more after that!"
For our entire team, one day of helping to make a difference once again opened our eyes to the challenges our fellow neighbors face and allowed us to return a little love to a community that so graciously accepts it with open arms.
Simon's next Volunteer Day will be held at the Samaritan Center on Saturday, November 7, 2020. For more information on how you can help the Samaritan Center, please click here.